Wellness From The Earth "Happy Healthy Hippie" : Product Review "Joy- Filled "
Product Review "Joy- Filled"
I wanted to do a huge review on every single product in one post but #momlife and i thought it would serve well separately for the sake of sanity. So here's part one on " Joy- Filled".
"herbs that have been scientifically proven to be as effective as alternative pharmaceutical options…you know, but without all of the synthetic scary stuff"
⠀⠀Happy Healthy Hippie
You've seen this beauty before, If you watch my stories on instagram. I'm super excited to finally share the source with you, it's benefits and how it worked for me.
This baby is called " Joy- Filled"
Joy- Filled has been apart of my daily ritual and routine for the past 5 months.
It's exciting to know every single herb was intentional chosen. While keeping relaxation, stress, tension and anxiety relief, in mind.
⠀⠀
❗️ What's in it you ask⁉️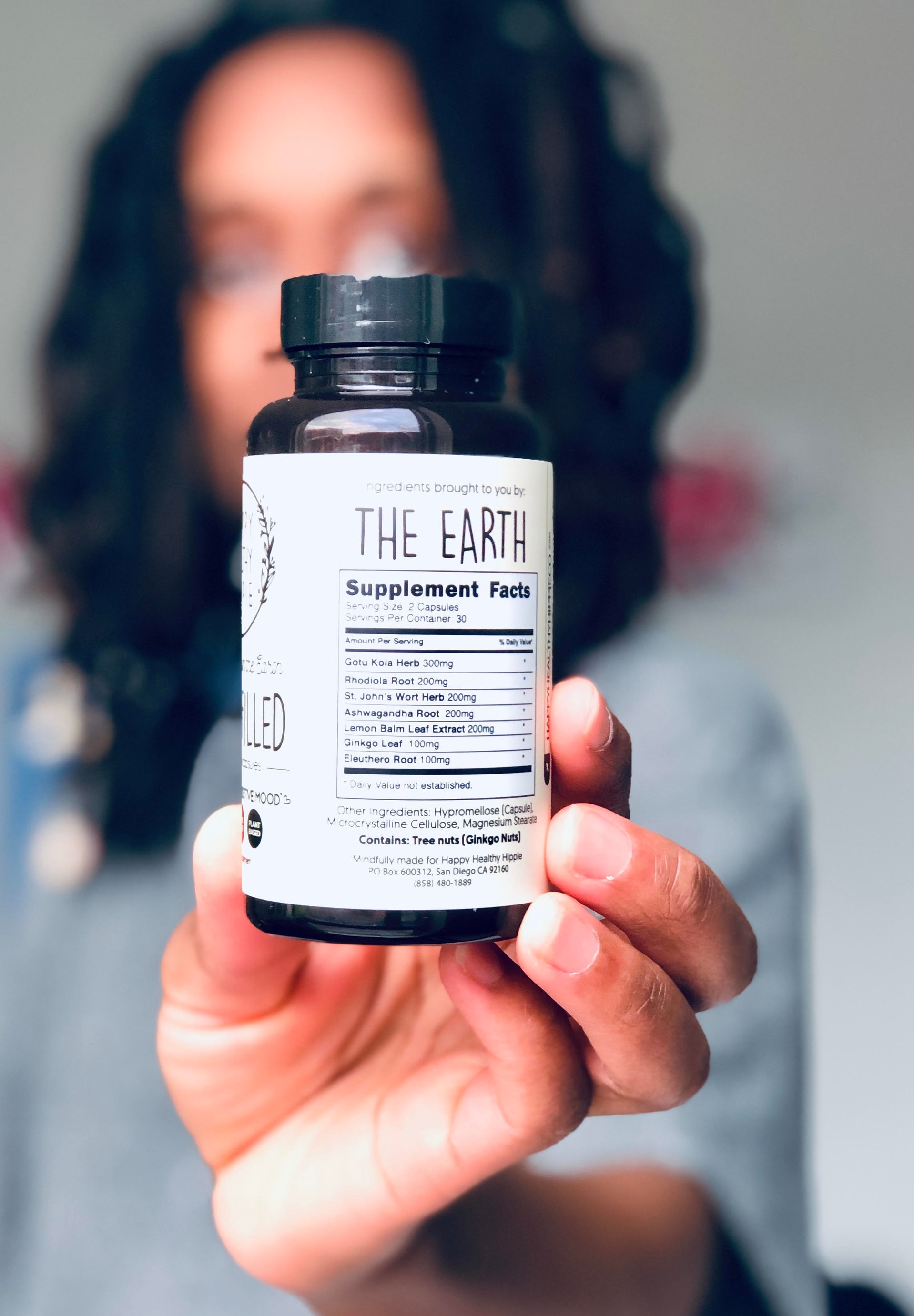 👇🏿
Ashwagandha
which
( reduces stress, increase energy, and improve concentration by supporting the adrenaline function of our body)
Rhodiola Rosea
which
( helps to ward off fatigue, anxious thoughts, and contains beneficial effects on mood)
⠀⠀
St. John's Wort
which⠀⠀
( this herb works to increase the availability of the chemicals serotonin, dopamine, and norepinephrine in the brain, which are crucial components in maintaining a positive state of mind.
Lemon Balm Leaf
which
(helps to reduce nervousness, insomnia, restlessness, and promotes an overall calming effect)
Gingko Biloba
which
( support a clear mind and optimal brain function )
Gotu Kola
which
(helps you maintain a stable and positive mood)
Last but not least
Eleuthro
which
(helps the body to better utilize energy and improves circulation to the brain allowing for mental clarity and aids your liver in the cleaning process)
I love that Happy Healthy Hippie believes that you should know what you are putting in your body and exactly how much!
With intentional healing it's a MUST to have tools to draw on that assist us as we release and walk through life. Pros - After taking 2 supplements a day , in the morning with breakfast for about 2 months— yes you read that right 2 months. I started to notice a difference in my moods. Ya girl was DE-PLE-TED. As a mama who experiences anxiety, i slowly started to noticed my body and my inner voices respond to things that would normally take all day to shake off. It's nice to find relief in the things we tend to dwell on for longer periods of time. Side note— These supplements are easy to swallow , i'm not a fan of very large pills. Friendly reminder—You definitely do not want to take them on a empty stomach (as suggested on the label). It's just not a good sensation. Don't ask how I know. ! Can we talk about how cute their packaging is ? I almost did'nt take them out LOL Happy Healthy Hippie is also very clear and honest about where they get their products from. Which in itself is another relief to me.
Cons — There were'nt any manuals explaining or confirming the effectiveness of taking the whole product line at once. For those of us who are just learning about herbs. Do they counteract with the other herbs and formulas? Which is information we all have access to via the internet BUT i think it would be nice to have. For those of us #mommies who may want to exchange a second of research for snuggles. That was honestly the only con about this experience.
❗️ Did you know ❗️
👇🏿
Being addicted to stress is a thing?
Hear me out stress is a mental and psychological reaction that gives us a "high" . If our stress responds become habitual, we can become addicted-to that heightened state.
As I worked/work towards detaching from my certain stress addictions, these herbs are a keeper! But I won't keep them to all to myself so Here's
my code UMI25 for 25% off
I also learned that when we lack nutrients or minerals it can take our body a little while to restore and reboot!
Anywho let me know if you decide to give these a try!
Do you infuse herbs to curate better moods?